Gift family voucher - Night for 4 persons with a dinner
Unique experience gift - Romantic night with delicious breakfast and dinner credit (1 000,-)  for up to 4 people in the medieval glamour camp in Malesov, located right under the mighty medieval castle. Enjoy your stay in the luxuriously equipped tent including comfortable beds and a bathroom with a toilet and shower, all meticulously designed to evoke the military camp from a period long gone...
Gift voucher with an unique number please enter when make a reservation (as soon as possible).
Questions: info@malesovcamp.cz
Validity of a voucher is 365 days since buying it. Medieval Glamour Camp is open May - Octobre.
More info here: malesovcamp.com
Availability:

In stock

The original price:

€

0,00

Discount:

€

-189,00 (

0

%)
Product code:

MK002

You can find similar products in:
Comments and ratings
Reviews
No review has been added.
Alternative products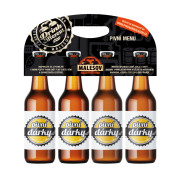 NNew